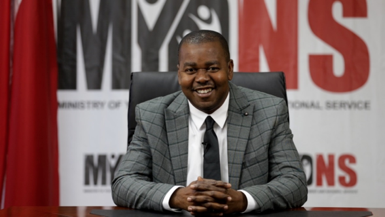 The Ministry of Youth Development and National Service (MYDNS) launched its new website www.mydns.gov.tt, with three main areas of focus: Youth Development; National Service and Micro and Small Enterprise Development.
"This new website will provide young people with digital access to information on all the Ministry's services. Whether it's registering your youth group, learning about available grants, or simply finding out about the nearest youth facility or district office in your community, this website makes it easier," stated the Honourable Foster Cummings, Minister of Youth Development and National Service in an introductory video message.
The new features include straightforward navigation, which allows visitors to access information on areas of interest. The site also permits users to download application forms for a number of MYDNS' services and provides a list of the Ministry's offices and facilities by geographic location.
Minister Cummings invited citizens to become familiar with the site, "to stay well-informed of all events happening at the Ministry" and to provide "honest feedback on how we can better serve you."
The Ministry of Youth Development and National Service remains committed to bringing all stakeholders together to promote youth development and encouraging civic-minded citizens to contribute to National Service across Trinidad and Tobago.