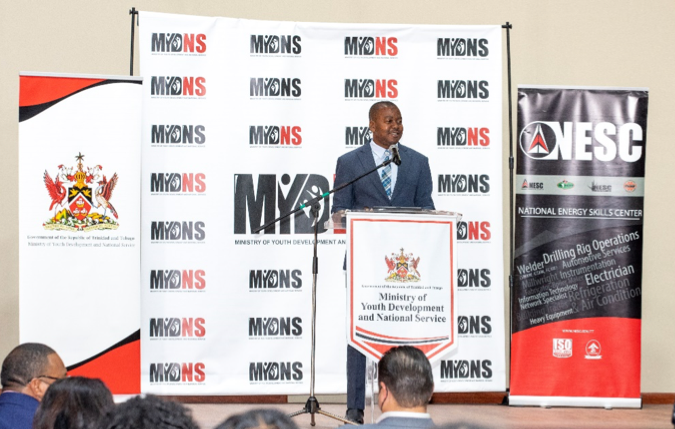 On Friday, May 27, 2022, Minister of Youth Development and National Service, the Honourable Foster Cummings delivered the feature address at the Launch of the AMPLIFY – A Music Production and Life Skills Initiative for Youth Development, at the National Energy Skills Centre Auditorium, Southern Main Road, Point Lisas.
Minister Cummings stated "Our music has tremendous potential to boost our Gross Domestic Product and increase opportunities in our employment landscape. For this reason, the Ministry of Youth Development and National Service (MYDNS) has committed to supporting young local talent like yourselves, for the stimulation of your creativity, and to help you fulfil your aspirations in the Orange Economy".
The Honourable Randall Mitchell, Minister of Tourism, Culture and the Arts mirrored these sentiments by referring to Trinidad and Tobago's events ecosystem as "a tremendous economic driver". Minister Mitchell went on to remind the AMPLIFY Programme trainees that they have a significant role within this ecosystem which they can benefit from.
AMPLIFY is a structured training programme for persons wishing to start their own or work in a professional studio, as well as, operate digital multi-track recorders. This seven-week development programme will aid young persons between the ages of 16 and 35 years in becoming skilled music producers and arrangers. It will also facilitate the continuity and longevity of our country's indigenous musical art form.
Also speaking at the event, was the Honourable Symon de Nobriga, Minister of Communications, who stated, "… to amplify is to make louder, to be heard, and I am certain by the end of this training programme, the country will be hearing a lot more from you." He went on to encourage the trainees to amplify themselves and to amplify their vision for what they want for themselves and their families; and what they want to do for their communities and their country.
Also in attendance were Alderman Kwasi Robinson, Chairman of the Tunapuna/Piarco Regional Corporation; Mr. Farook Hosein, Permanent Secretary, Ministry of Youth Development and National Service (MYDNS); Mrs. Dela Dirpaul-Ramoutar, Vice-President, Finance, President, National Energy Skills Centre; and Mr. Sean Ramrattan, Director of Youth Affairs, Ministry of Youth Development and National Service (MYDNS)
The Ministry of Youth Development and National Service (MYDNS) remains committed to bringing all stakeholders together to promote youth development and encourages civic-minded citizens to contribute to national service across Trinidad and Tobago.

-END-