Youth Development and National Service Minister, the Honourable Foster Cummings, yesterday toured Seans' Rabbitry and Aquaponics Produce; a business owned and operated by youth entrepreneurs, Sean Austin and Sean Mc Lean.
Minister Cummings, accompanied by a team from the Ministry and Public Relations Officer of the Wallerfield Farmers' Association – Dillon Boisson, visited the Cry in Wallerfield to witness the innovative pursuits of two young men, who came together to establish a business that produces rabbit meat and provides quality breeding stock to persons interested in getting into rabbit farming.
Austin, who led the tour, indicated that they were driven to rear rabbits due to "the increasing health and wellness thrust and the many benefits of consuming this type of meat." He described it as "white meat similar to chicken, but considered it to be a healthier option because of its high protein, low fat, low sodium, high phosphorous and ease to digest." He pointed out that there is little competition in this market even though the demand is high and steadily increasing.
In addition, Austin explained that "young people would be inclined to get into this type of business, as they can easily rear rabbits and sell them for meat processing." He further stated that "there is a lot of opportunity and financial viability in this type of business as it provides a faster return on investment; and rabbits are cheaper to raise, quieter than other livestock and can be reared in smaller spaces with larger quantities, due to their size." He encourages young people to get into the rabbit production business as a means of sustaining their families and earning an income.
While Seans' predominantly produces rabbit meat and generates rabbit manure for sale, there is much more to their business, which they shared with the Minister.
Austin and Mc Lean took Minister Cummings to one area of the farm, in which they are rearing black layers with the intention of egg production and another, in which they have an aquaponic system that produces tilapia, tomatoes, chive, celery and kale.
Austin and Mc Lean highlighted another critical section of their business which is the capability to perform artificial insemination of rabbits, to increase production. Austin stated that "farmers who do not have high quality bucks can bring their females to be inseminated, as one male can inseminate up to 15 females in one instant." He noted that with the increase in production, they aim to "reduce the price of rabbit meat which retails at approximately TT45 dollars per pound."
Minister Cummings said it was his "first visit to a rabbit farm" and he had "never seen so many rabbits in one place." The Minister indicated how impressed he was and congratulated the young owners on their successful initiative.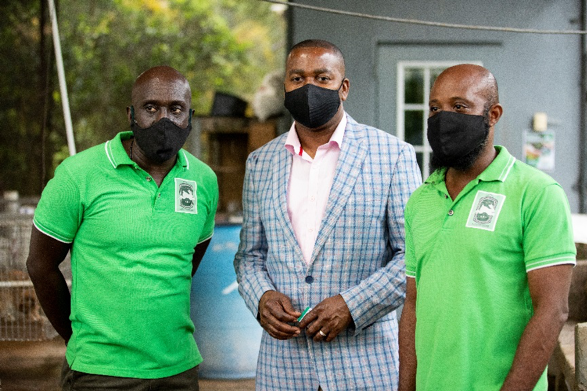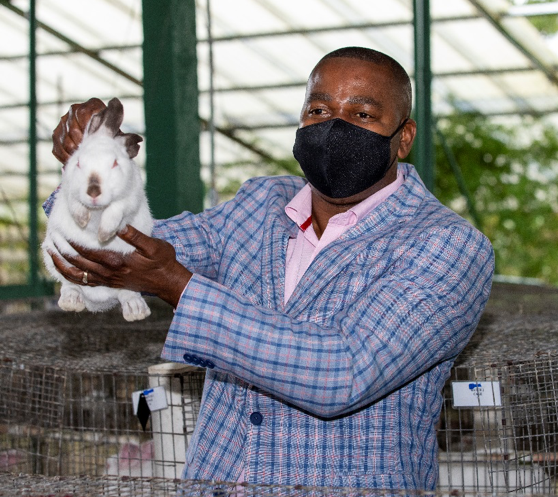 -END-